St Petersburg metro blast 'kills 10'
At least 10 people are feared dead and dozens wounded after a blast ripped through a train carriage in the metro system of Saint Petersburg, Russia's second city, according to local authorities.
Russian President Vladimir Putin, who was in the city to attend an economic forum, said the government was considering all possible causes for the explosion, including "terrorism".
Ambulances and fire engines descended on the central Sennaya Ploshchad metro station after the blast on Monday at 240pm (11:40 GMT). Russian media initially reported that there were two explosions, but officials later said that there was only one blast which happened when a train was between two stations.
Another explosive device was later found at a different station in central St Petersburg and made safe, the country's National Anti-Terrorist Committee said.
READ MORE: Russia to overhaul national security after plane bomb
"We don't know the exact number of those killed, but it is about 10 people," Andrei Kibitov, a spokesman for the Saint Petersburg governor, said.
He added that about 50 people were wounded, two of which were undergoing emergency surgery.
A huge hole was blasted in the side of a carriage with metal wreckage strewn across the platform. Passengers were seen hammering at the windows of one closed carriage.
"My mom was in the metro, I don't know what's happened to her, I can't get hold of her," one woman, Natalia, told the AFP news agency outside the station.
Social media users also posted photographs and video from the scene of the blast, showing people lying on the floor and a train with a mangled door nearby.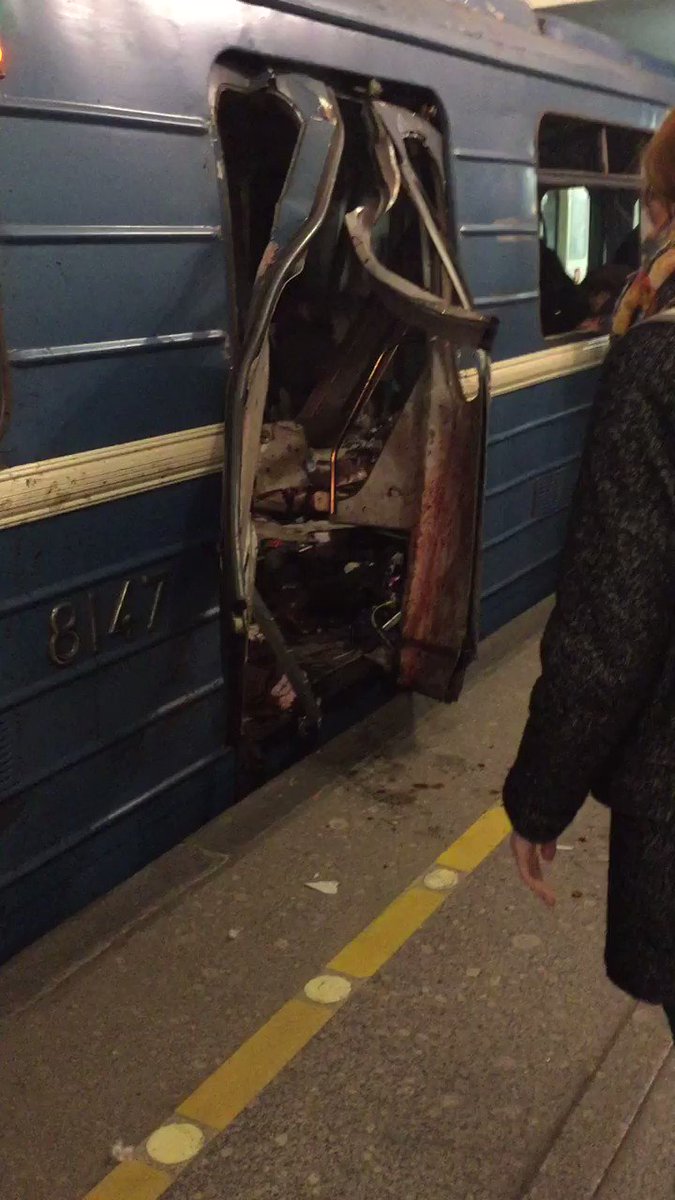 Russian media reports that there were 2 blasts at St.Petersburg metro https://russia.liveuamap.com/en/2017/3-april-another-video-from-stpetersburg-metro-station-as …
Speaking to reporters at a meeting with Belarus President Alexander Lukashenko, Putin offered his condolences to the victims' families.
"I have already spoken to the head of our special services, they are working to ascertain the cause [of the blast]," the Russian president said.
"The causes are not clear, it's too early. We will look at all possible causes, terrorism as well as common crime," he added.
Authorities in St Petersburg closed all of the city's metro stations following the blast. About three million people there use the metro daily.
"We also understand that security is being beefed up on the Moscow metro system and other transportation hubs in big Russian cities," Al Jazeera's Rory Challands, reporting from the capital, said.
"The Russians are preparing themselves for a potential series of attaks and they are doing what they can at the moment to try and prevent any more incidents like these from happening."
'Cause fear'
For years, Russian cities, including their transportation systems, had faced bomb attacks from Chechen fighters and other groups in the Caucasus, but gradually they were lessening.
At least 38 people were killed in 2010 when two female suicide bombers detonated bombs on packed Moscow metro trains.

A suicide raid on the capital's Domodedovo airport that was claimed by fighters from the North Caucasus killed 37 people in January 2011.
Security analysts pointed out recently that the Islamic State of Iraq and the Levant (ISIL, also known as ISIS) group had been threatening Russia, and had claimed responsibilityfor an attack in Chechnya that killed six Russian soldiers.
Russia is a staunch ally of Syria's President Bashar al-Assad and has been bombing rebel-held areas since September 2015.
According to monitoring groups, Russian air raids in Syria have killed more than 10,000 people, including nearly 4,000 civilians.
Simon Mabon, a lecturer in international relations at Lancaster University, told Al Jazeera that the blast in St Petersburg had the "hallmarks of a number of different groups, but the ultimate goal is to cause fear and strike at the heart of the Russian state".